About CIWA
Since 2011, the Cooperation in International Waters in Africa (CIWA) partnership has supported riparian governments in Sub-Saharan Africa to fuel sustainable, inclusive, climate-resilient growth by addressing constraints to cooperative management and development of transboundary waters.
With 90 percent of the water in Africa falling within 63 river basin catchments crossed by multiple borders, water resources management and development must be a cooperative endeavor. CIWA works to strengthen institutions, improve knowledge, develop investment opportunities, and train governments to cooperate across shared waters.
CIWA is addressing some of the many challenges that Africa faces, including a lack of access to safe drinking water–only 58 percent of Africans have access–and climate change impacts by sustainably managing and developing the continent's water resources. Without concrete climate action and climate-sensitive development, as many as 86 million people in Sub-Saharan Africa could be forced to relocate by 2050 from water scarcity, sea level rise and storm surges, and declines in crop and ecosystem productivity.
Tapping into Africa's water resources can significantly strengthen the region's water security, improve livelihoods, and spur economic growth. Improved water resources management can increase food security, reduce vulnerability to climate change, improve human health and sanitation, and increase energy generation and industrial expansion.
WHO WE ARE
CIWA: At a Glance
Managed by the World Bank, CIWA makes investments to develop water infrastructure and offers technical support and analyses to create a better understanding of transboundary water issues so that governments, river basin organizations, and other stakeholders can make sound, evidence-based decisions.
CIWA achieves its goals by focusing on its three I's:
Information: for understanding risks, better decision-making, and monitoring compliance
Institutions: to build trust, coordinate planning, and manage shared resources
Investment: to manage watersheds, develop groundwater, build storage, among others
HOW WE WORK
CIWA has a three-pronged approach to delivering results–deploying strategies to strengthen and enhance institutions, information, and infrastructure. CIWA supports:
1) Sustained Engagements with priority basins. CIWA strengthens foundational elements such as data, legal agreements, institutions, and investment and operational plans.
2) Strategic Engagements contribute to high-impact projects through analytical efforts, capacity-building, and technical assistance.
3) Knowledge Generation and Management initiatives strengthen the evidence base to create tools to manage international waters.
CIWA provides a platform to support national governments, regional and international organizations, and civil society to ensure that stakeholders' concerns are addressed and benefits are equitably distributed.
CIWA's activities are cross-sectoral, including Gender and Social Inclusion (GESI), Fragility, Conflict, and Violence (FCV), climate resilience, biodiversity conservation, data initiatives, energy, agriculture, social issues, and the environment. The partnership works to ensure that people and property are protected from water-related shocks and that they can sustain and use the valuable resource of water.
Theory of Change
By encouraging countries to work together to share information, strengthen institutions, and advance sustainable investments, CIWA promotes a cooperative approach to manage shared risks and equitably share socio-economic benefits. These efforts reduce resource-related conflict and strengthen regional integration for sustainable economic growth, poverty reduction, and resilience to climate change.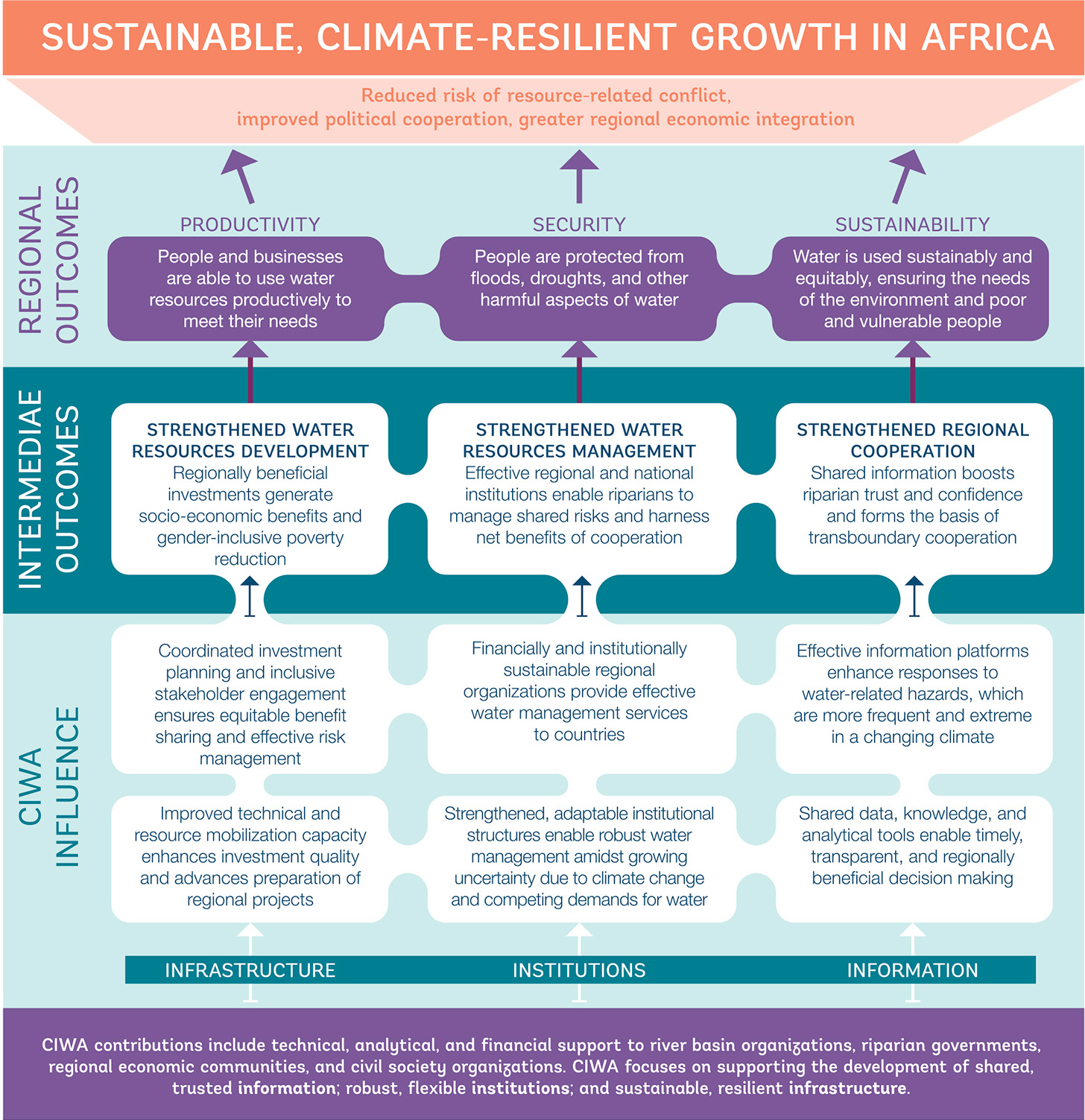 COVID-19 RESPONSE
The COVID-19 pandemic and its socio-economic impacts have shone a spotlight on the critical role of water in protecting people's health and achieving a resilient recovery. It also has worsened existing vulnerabilities to water- and climate-related shocks, highlighting the challenges that Africa faces to ensure access to water to improve health, sustain lives, increase economic prosperity, and improve resilience to climate change.
As every country works to contain the spread of the coronavirus and mitigate its impact, the World Bank Group has mounted the largest crisis response in its history to help developing countries navigate the pandemic. From April 2020 to June 2021, the World Bank committed more than $157 billion to address the pandemic, tailored to the health, economic, and social shocks that each country is facing.
The World Bank's Water Global Practice, of which CIWA is a part, is focusing its response on preparedness and emergency response, mitigating secondary impacts, and building resilience against future diseases. Since CIWA is situated at the nexus of water resources, provision of water services, livelihoods, and food security, it is actively supporting the Water Global Practice's COVID-19 response along all those dimensions.
Water resources will remain critical not only to ensure an inclusive, sustainable, and more efficient recovery, but also to make progress on countries' development and climate goals. In this context, CIWA plays an important role in building the foundations for a bluer, greener, and more resilient future.