ANNUAL
REPORT

2021
It has been a year like no other in our lifetime, including for the riparian countries in which CIWA works. The COVID-19 pandemic, along with its socio-economic effects, has shone a spotlight on the critical role of water in protecting people's health and achieving a resilient recovery. We invite you to read the highlights of this year and learn more about CIWA's on-the-ground work in East Africa, West and Central Africa, Horn of Africa and Southern Africa.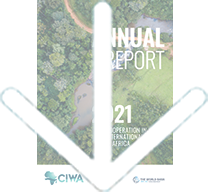 IMPACTS
People who benefit from investments influenced by CIWA

Above data is cumulative since 2011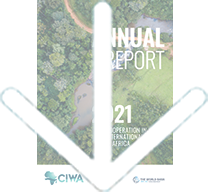 STRATEGIC FOCUS AREAS
RESILIENCE
Adopting a broader resilience perspective is crucial, as CIWA helps strengthen the capacity of riparian governments to better adapt to, and potentially transform amid, change.
GENDER AND SOCIAL INCLUSION
CIWA's work on Gender and Social Inclusion (GESI) offers a transformative approach that shifts from one-off interventions toward actions that disrupt deeply entrenched norms and attitudes about gender inequality and social exclusion and target multiple, diverse stakeholders.
BIODIVERSITY
The CIWA program is exploring ways to better align transboundary water cooperation efforts with biodiversity conservation goals, including identifying opportunities at the intersection of transboundary water management and freshwater biodiversity conservation.
FRAGILITY, CONFLICT, AND VIOLENCE
CIWA is expanding and deepening its support to countries affected by fragility, conflict, and violence (FCV). In 2021, 21 countries in Africa were classified as FCV states, and CIWA operates in 11.
WATER DATA REVOLUTION
Through the new Water Data Revolution (WDR) technical cooperation, CIWA is assisting governments to address constraints to cooperative water management by enhancing access to Remote Sensing Data and data platforms.
LOOKING AHEAD
CIWA plays an important role in building the foundations for a bluer, greener, and more resilient future, as water resources will remain critical not only to ensure an inclusive, sustainable, and more efficient recovery, but also to make progress on countries' development and climate goals.
CIWA will continue to build transboundary cooperation through our three pillars of improving access to information, strengthening institutions, and identifying, preparing, and mobilizing sustainable investments. We will maintain the program's proven dual approach of continuity and change, by balancing long-term engagements in priority basins with short-term strategic projects.