CIWA Quarterly Bulletin

Welcome to CIWA's Quarterly BULLETIN!
We are pleased to share the seventh quarterly edition of the Cooperation in International Waters in Africa Program (CIWA) Bulletin.
In an era characterized by climate change; fragility, conflict, and violence; and other multi-dimensional crises, our work is more important than ever. In this edition, discover the newly released Annual Report 2022 available in English and French, which chronicles CIWA's efforts to strengthen resilience, water security, and economic growth and development in the 2022 fiscal year, which ended June 30, 2022.
As we are closing the year, we would like to thank our partners, donors, and colleagues that help advance the work supported by the CIWA program!
Happy Reading and Happy Holidays!
Anders Jägerskog and Ai-Ju Huang
CIWA Program Managers
IN THE NILE BASIN, THE NEXT GENERATION OF WATER PROFESSIONALS WORKING TOWARDS A NEW ERA OF COOPERATION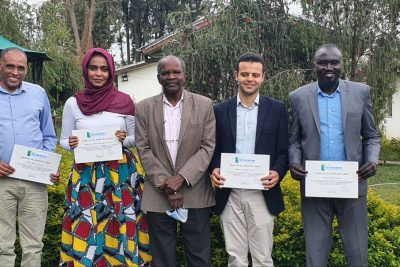 Since 2011, as part of the Nile Basin Initiative (NBI) the Eastern Nile Technical Regional Office (ENTRO) in partnership with CIWA has run an internship program for the next generation of talented water professionals with a primary focus on enabling an environment for transboundary water cooperation and a commitment to assembling an innovative, collaborative, and forward-thinking forum of young experts.
What's making a splash
What's new in transboundary waters cooperation
CIWA LAUNCHED ITS 10TH ANNUAL REPORT
In the 2022 fiscal year (FY22), the Cooperation in International Waters in Africa (CIWA) worked to mitigate Africa's immense needs. These formidable challenges only strengthen our resolve to help countries collaborate over transboundary waters to share costs and benefits of building resilience, to address drivers of fragility, conflict, and violence (FCV), and to foster green, resilient, and inclusive development (GRID) and recovery from the pandemic.
Save the date for these upcoming events
UN 2023 Water Conference || 22-24 March 2023 || New York, USA
The UN 2023 Water Conference with the theme of 'Water for Sustainable Development', will take place in March 2023 to coincide with World Water Day and will focus on the objectives of the Decade as laid out in the Secretary-General's Plan: Water Action Decade 2018-2028.
International Conference on Climate Risk, Vulnerability and Resilience Building || 19-21 April 2023 || UNESCO Headquarters and Online
The Conference aims at bridging the gap between science, policy and decision-making to support effective resilience building. This solution-oriented event will follow up on the discussions held at the 2023 United Nations Water Conference, by linking scientists, practitioners and decision-makers to support the development of resilient water management policies.
CIWA's social media engagement
ABOUT CIWA
CIWA, a multi-donor partnership, continues to support riparian governments in West, East, Central, and Southern Africa and their path toward more sustainable, data-driven, community-focused, and collaborative management of transboundary waters.
Learn more about our program activities on our English and French Websites. And do follow us on Twitter @CIWAProgram. To subscribe to the CIWA Podcast, copy and paste the URL from the address bar into the podcast app of your choice: https://feeds.buzzsprout.com/1734582.rss
A special thank you to our editorial team, partners, reviewers and authors.
Photo Credits: Shutterstock and Unsplash Images, World Bank/ Flickr