Unlocking women's potential in Kenya's water and sanitation sector
Posté le : 8 juillet 2020 (Blog)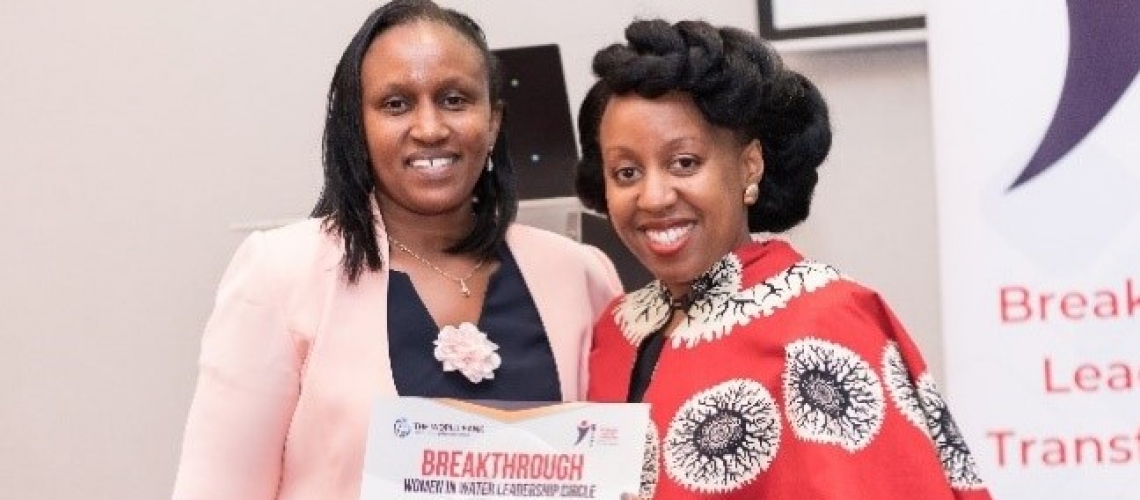 In Kenya, women in water utilities face barriers in accessing equal employment opportunities throughout their career trajectory. This is due to entrenched social norms, biased hiring processes and limited training and networking opportunities. Accordingly, very few females occupy middle or senior management positions in these utilities. For instance, of the 88 licensed Water Service Providers (WSPs) in Kenya, only four (4.5%) are headed by women. As a result, women in these utilities have had no role models, lack voice and representation despite being employed in the sector for decades.
To help women working in Kenyan Water Services Providers (WSPs) attain their full potential, the World Bank-financed Kenya Water and Sanitation Development Project (WSDP) launched the Women in Water (WIW) Leadership Circle, a leadership training program for female decision makers. The participants were drawn from the WSDP implementing agencies – seven WSPs and one Water Works Development Agency from coastal and north-eastern regions of Kenya.
The training, led by Dr. Patricia Murugami, argues that women's professional advancement towards becoming transformational leaders is impacted principally by the internal barriers they face. The Circle guided participants on how to address these barriers and raise their leadership potential by solving challenges in their institutions. For six months, the monthly trainings covered topics such as work-life integration, power and influence, negotiation styles, and strategic networking, among others. Using presentations, readings and discussions, the participants worked in teams to identify improvements they can make in their own institutions. The cohort, which graduated in February 2020, shared their learning experience and their proposed solutions with their Managing Directors.
Having just began a transformational journey of finding themselves and discovering their capabilities, the women who participated in the Circle are poised to bring change not only in their respective workplaces but also in their surrounding communities as well.  The Circle connected personal and professional growth, enabled and empowered participants to gain self-confidence, shed self-doubt, translate lessons into action, and share the lessons with other women.  Most importantly, the cohort committed to undertaking mentorship programs boost women representation particularly in middle and senior management roles.
Eng. Priscillah Oluoch, a Deputy Technical Manager at the Malindi WSP, one of the Circle graduates, has translated the learning into tangible outcomes. Priscillah spearheaded successfully the acquisition of a license for the Malindi WSP and her independent proposal has obtained funding from the African Sanitation Innovation Challenge for a sanitation levy for fecal sludge management. Priscillah is working with the Kenya Water and Sanitation Providers Association to establish a Women in Water Leadership Mentoring Program for Kenyan women working in utilities.
Inspired by the positive outcome of the Leadership Circle, the management of WSPs have initiated initiatives to enhance the roles of women in their utilities.  In Kilifi County, the WSP has allocated a budget for training women; the Mombasa County's WSP and Coast Water Works Development Agency (CWWDA) participants formed a book club.  The book club discussions have deepened the discussions and bonding between Mombasa and CWWDA to now include informal mentoring between the finance specialists of both teams.
Exposing women in utilities to innovative programs like the WIW Leadership Circle unlocks their leadership potential.  This will enhance their current roles as they implement World Bank operations through their respective institution. The Circle demonstrates that water institutions can implement these improvements gradually and thus, achieve greater female representation in leadership positions in the sector.