CIWA Quarterly Bulletin

Welcome to CIWA's Quarterly BULLETIN!
We are pleased to share the ninth quarterly edition of the Cooperation in International Waters in Africa Program (CIWA) Bulletin.
Le La Coopération pour les eaux internationales en Afrique team was in full swing at the World Water Week 2023 in Stockholm! During the event, a series of meetings and discussions were held to help drive the Water agenda forward.
During the Africa Climate Summit 2023 that just finished, our UK partner FCDO announced a new support for CIWA, helping us achieve our core mandate of advancing transboundary water management. The CIWA team is proud to take part to essential international and regional events and looks forward to continuing to be a change maker to the continent's water future.
This edition is also spotlighting the latest CIWA initiative: the Male Champion Forum. Lisez notre blog (en anglais). to know more!
Happy Reading,
Anders Jägerskog and Ai-Ju Huang
CIWA Program Managers
World Water Week 2023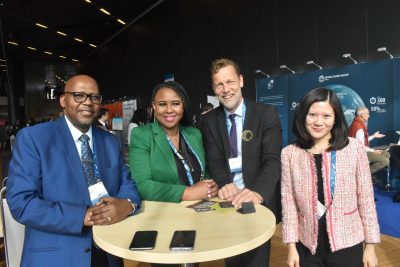 During the recently concluded World Water Week in Stockholm, the CIWA Managers and Team were delighted to meet and discuss with their close partners, such as the Nile Basin Initiative, the Nile Basin Discourse, OKACOM and other River Basin Organizations to look into the future of water resources management. It was once again highlighted that these organizations are key in advancing transboundary cooperation in order to achieve essential global public goods, including climate resilience, conflict prevention, and biodiversity preservation.
What's making a splash
A NEW MALE CHAMPION FORUM TO TRANSFORM GENDER INEQUALITIES IN TRANSBOUNDARY WATERS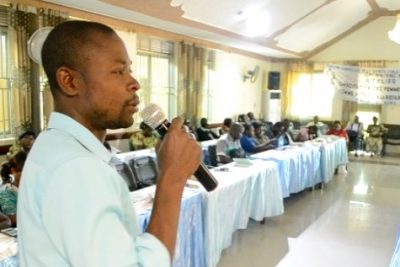 CIWA has partnered with the Stockholm International Water Institute to create the Male Champion Forum, an innovative approach to utilizing male influence to challenge traditional gender roles and promote positive change. In this blog, CIWA co-manager Ai-Ju Huang and GESI Ellen Hagerman give us valuable insights into this groundbreaking initiative.
TRANSBOUNDARY WATERS AND BIODIVERSITY CONSERVATION: HOW CIWA BECAME A CHANGE-MAKER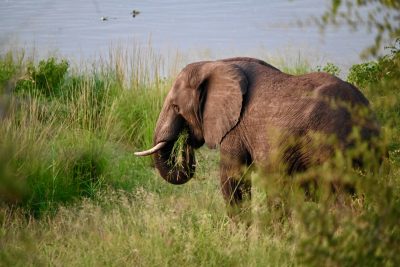 CIWA is actively seeking ways to more closely align its transboundary water cooperation initiatives with biodiversity conservation objectives, working on the intersections between transboundary water management and freshwater biodiversity conservation. Piet Theron, CIWA Biodiversity and Conservation Lead, explains how CIWA has become an influential actor in this area.
IMPROVING GROUNDWATER DEVELOPMENT IN THE SAHEL REGION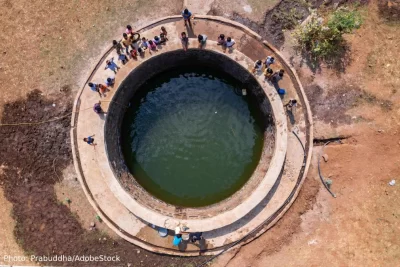 In order to prepare for upcoming interventions and raise awareness of groundwater's importance in water security, the CIWA created the Sahel Groundwater Initiative technical assistance program. As it recently concluded, Francois Bertone and Mariam Sou shared the key findings of the initiative in this blog and through the Sahel Learning Note Series.
What's new in transboundary waters cooperation
Spotlight on CIWA's Male Champion Forum
Because men are often the key stakeholders, influencers, and decision makers in water institutions and local villages, CIWA partnered with the Stockholm International Water Institute to develop the Male Champion Forum as an innovative means of using men's influence to break through traditional gender roles and to be advocates for change. Watch our launch video: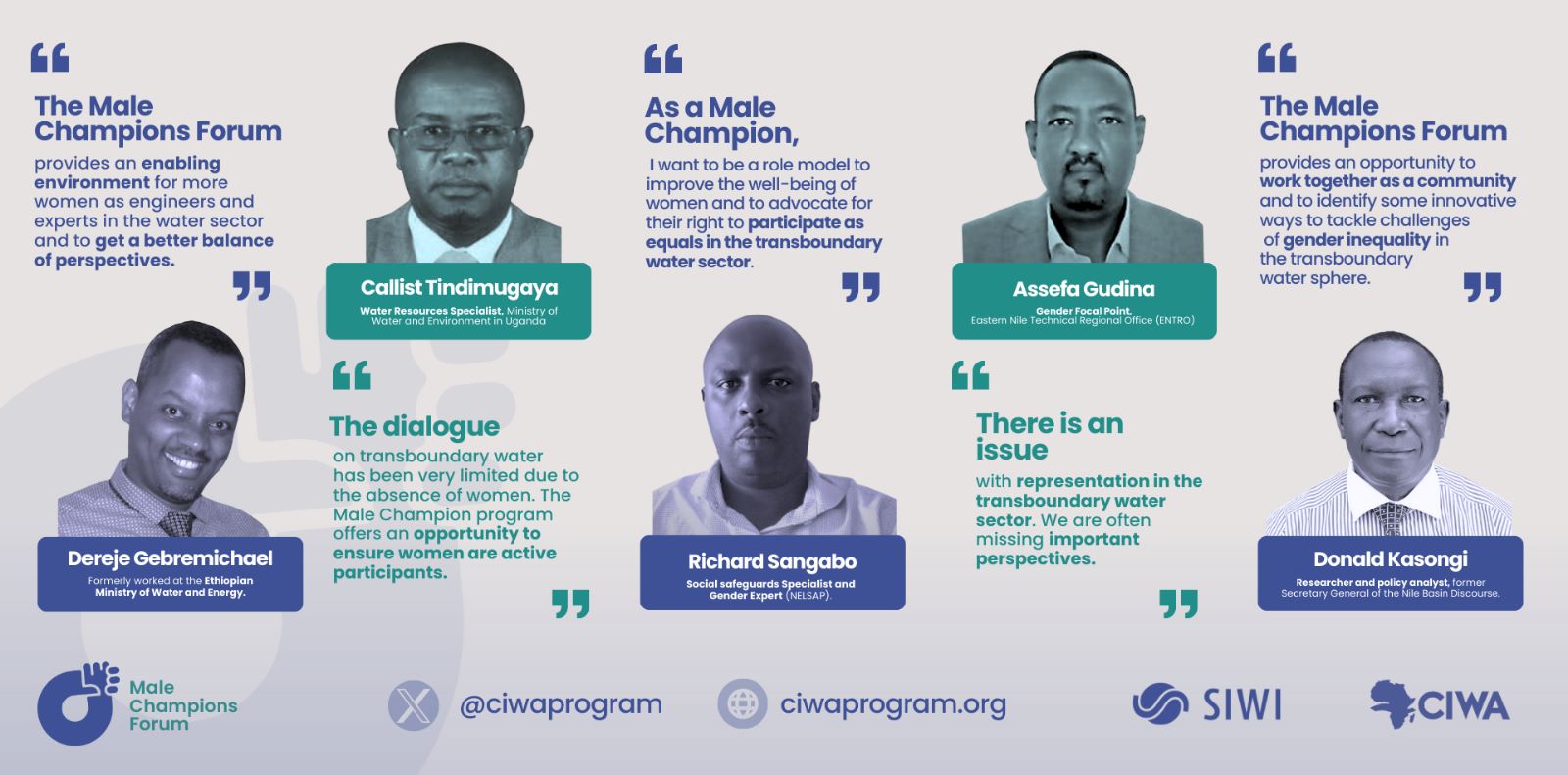 In June 2023, CIWA rolled out the Male-Champion pilot in selected sub-regions in Africa. Eight Male Champions represented in different segments of the water institutions participated in a one-day pilot workshop. Each of the Male Champions was selected based on their strong commitment to gender equality and a professional and personal experience promoting gender equality in the water sector. Read our blog here
Save the date for these upcoming events
Gender Equality and Social Inclusion (GESI), Environmentral and social management (ESM) Training | 18 -20 October 2023
The Southern African Development Community Groundwater Management Institute (SADC-GMI) is pleased to announce a Gender Equality and Social Inclusion and Environmental and Social Management Training taking place from 18-20 October. Stay tuned for further details, to be disseminated via SADC-GMI's communication platforms.
Nile Basin Development Forum | 25-27 OCT 2023
The 7th Nile Basin Development Forum (NBDF) will be held in a hybrid format, with webinars taking place from September 18 to October 13, 2023, followed by a physical session (including the Nile Media Awards) on October 25, 26, and 27. Co-hosted by the Nile Basin Initiative (NBI) and its Member States in partnership with development partners, the NBDF is a high-level, triennial event.
CIWA's social media engagement
ABOUT CIWA
CIWA, a multi-donor partnership, continues to support riparian governments in West, East, Central, and Southern Africa and their path toward more sustainable, data-driven, community-focused, and collaborative management of transboundary waters.
Learn more about our program activities on our English et de French Websites. And do follow us on Twitter @CIWAProgram.
A special thank you to our editorial team, partners, reviewers and authors. Photo Credits: Shutterstock and Unsplash Images, World Bank/ Flickr