CIWA Quarterly Bulletin

Welcome to CIWA's Quarterly BULLETIN!
For the first time as CIWA Program Manager, I, Anders Jägerskog, am pleased to share this fifth quarterly edition of the Cooperation in International Waters in Africa Program (CIWA) Bulletin. We invite you to discover or rediscover CIWA's latest news through blogs, articles, podcasts, and more.
I am taking the opportunity to share my excitement to join a vibrant and impactful program strengthening transboundary water cooperation in Sub-Saharan Africa. Together with Deputy Program Manager Ai-Ju Huang and other members of CIWA team, our hope if to further develop the program, drawing on global experiences and lessons learnt.
Please make sure you are also following us on Twitter – @CIWAProgram.
Happy Reading!
Anders Jägerskog and Ai-Ju Huang
CIWA Program Managers
IN FOCUS: First in Person Implementation Support Mission for the CIWA's funded Nile Cooperation for Climate Resilience (NCCR)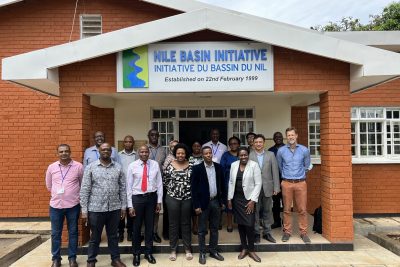 The NCCR Project Team Leaders, Yukio Tanaka, Anders Jagerskog, and Shyam KC visited last week the NBI'Secretariat headquarters in Entebbe for an Implementation Support Mission (ISM). The NCCR project development objective is to improve mechanisms for regional cooperation on water resources management and development in the Nile Basin, with an aim of building resilience against water insecurity as a result of climate change impacts in the Nile River Basin.
What's making a splash
What's new in transboundary waters cooperation
CIWA LEARNING NOTES SERIES: FOCUS ON GENDER AND SOCIAL INCLUSION
The CIWA Learning Notes form part of CIWA's commitment to promoting the adoption of a transformative approach to GESI by recognizing the need to undertake multiple interventions across many sectors and levels to tackle the root causes of gender inequalities and shifting gender relationships within the transboundary water context in Africa at both the project and institutional level.
The first Learning Note seeks to reflect the technical input that CIWA's GESI expert provided as part of the process
to review CIWA's Advisory Services and Analytics (ASA) product and projects at the preliminary phase.
The second Learning Note focuses on capturing lessons learned and recommendations from CIWA's support to NBI's gender equality work from 2012 through 2020. This support was provided primarily through the Nile River Basin Support Program and the complementary project, Nile Cooperation for Results.
Save the date for these upcoming events
SIWI World Water Week 2022
The World Water Week 2022 will take place online and in Stockholm, Sweden (8/23/2022 till 9/1/2022). CIWA is contributing to the forthcoming session at SIWI's Water Week on 'Sharing hidden treasures: how to improve transboundary groundwater cooperation', scheduled on 8/25/2022 at 20:00-21:20. Stay tuned for a full session program.
IWA-WHO International Conference on Water Safety
The 2022 IWA-WHO International Conference for Water Safety  will bring together leading international experts from academia, industry, government, policymakers/authorities and other organizations to actively exchange, share, and challenge state-of-the-art research on water safety.
CIWA's social media engagement
ABOUT CIWA
CIWA, a multi-donor partnership, continues to support riparian governments in West, East, Central, and Southern Africa and their path toward more sustainable, data-driven, community-focused, and collaborative management of transboundary waters.
Learn more about our program activities on our English and French Websites. And do follow us on Twitter @CIWAProgram
To subscribe to the CIWA Podcast, copy and paste the URL from the address bar into the podcast app of your choice https://feeds.buzzsprout.com/1734582.rss
Photo Credits: Shutterstock, Unsplash Images, World Bank and Flickr