CIWA Quarterly Bulletin

Welcome to CIWA's Quarterly BULLETIN!
As managers of the CIWA Program, on CIWA's 10-year anniversary, we recommit ourselves to working across regional, national, and local levels to strengthen cooperation around transboundary water resources in Sub-Saharan Africa.
In light of this meaningful anniversary, we are pleased to share this edition with you.
And don't forget to follow us on Twitter – @CIWAProgram.
Happy reading,
Erwin De Nys and Ai-Ju Huang
CIWA Program Manager and Deputy Program Manager
CIWA CELEBRATES ITS 10TH ANNIVERSARY!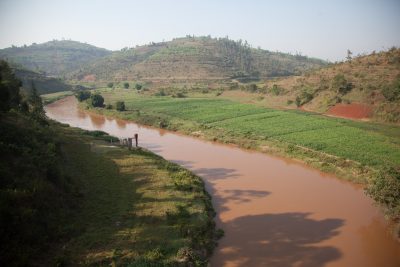 The CIWA Program continues to make strong, steady progress. Our work with regional river basin organizations, governments, civil society groups, and communities have benefited nearly 37 million people across Sub-Saharan Africa. To mark our 10-Year Anniversary, we have launched a social media campaign to celebrate this milestone and generate more awareness about CIWA's work.
What's making a splash
What's new in transboundary waters cooperation
SPOTLIGHT | Water Cooperation in the Horn of Africa: Addressing Drivers of Conflict and Strengthening Resilience
The Horn of Africa is a region exposed to the risks of water insecurity due to population growth and the impact of climate change. The double impact of climate stress and violent conflict has led to increased social vulnerability and political fragility, which in turn affects the region's prospects for adapting to changing environmental conditions. Cooperation over water resources as a policy option to address such challenges has been high on the research and policy agenda for decades. International and national policymakers are particularly interested in how different forms of water cooperation can mitigate the drivers of conflict, prevent the escalation of tensions,
and build resilience to better respond to the impacts of climate change. A new joint CIWA-Stockholm International Peace Research Institute (SIPRI) report aims to help to fill this research gap by exploring the role of local-level cooperative initiatives in improving water resource challenges in the Horn of Africa. The report draws on three illustrative case studies of transboundary basins in cross-border regions: the Sio–Malaba–Malakisi Basin. In doing so, it provides lessons learned from existing cooperative initiatives. Learn more about SIPRI.
Save the date for these upcoming events
9th World Water Forum - March 21-26
The global water community will meet in Dakar, Senegal, for the first-ever World Water Forum to take place in Africa. This year's theme is, "Water Security for Peace and Development." The forum will bring together governments, water organizations, the private sector, civil society organizations, and other entities. To learn more about the forum, visit this link.
World Water Day 2022 - March 22
World Water Day, a United Nations Observance Day, is held on March 22 every year. This year's World Water Day theme is, "Groundwater: Making the Invisible, Visible" to recognize groundwater as a critical water resource and underscore the need to work together to sustainably manage it. Read more here.
CIWA's social media engagement
ABOUT CIWA
CIWA, a multi-donor trust fund, continues to support riparian governments in West, East, Central, and Southern Africa and their path toward more sustainable, data-driven, community-focused, and collaborative management of transboundary waters.
Learn more about our program activities on our English and French Websites.
To follow CIWA on Twitter, visit @ciwaprogram
To subscribe to the CIWA Podcast, copy and paste the URL from the address bar into the podcast app of your choice https://feeds.buzzsprout.com/1734582.rss
Photo Credits: Shutterstock and Unsplash Images, World Bank/ Flickr